About
Us
Hillwood Medical School is the Lush green campus located at Sikandrabad-Khurja GT Road. The Hillwood Medical School started in 2017 with the generosity of Shri Himanshu Sharma a visionary and a legend.
The institute is approved by All IndiaCouncil for Technical Education (AICTE), Pharmacy Council of India (PCI),New Delhi, Abdul Kalam Technical University (AKTU) and Board of Technical Education (BTE), Govt. of Uttar Pradesh. TheSchool has state-of-the-art infrastructure and instrumental facilities andprovides a serene atmosphere for academic excellence.
The institute houses a voluminous library, classrooms with multimedia facilities, well equipped laboratories,modern Computer and Language labs, canteen , playground, auditorium and seminarhall .
Director –



Mr. Amit Kumar Tyagi (Director)
Hillwood medical school is one of the best pharmacy institute in west UP. We furnish knowledgeable, talented and confident pharmacists to society. Our assets are dedicated and highly qualified faculty with state of the art research facilities. With all our efforts to provide quality professional education and research opportunities, we aim to be a leader in pharmaceutical education and research.
Chairman –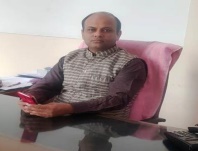 Mr. Himanshu Sharma (Chairman)
Over a span of 5 years, Hillwood Medical School has emerged as one of the leading and fast growing pharmacy institute in state of Uttar Pradesh, particularly in the region of west UP, delivering quality professional education. Its continued endeavour to achieve excellence has earned an enviable academic reputation in the state of UP and its neighbouring states.

MISSION
To enable students to develop necessary skills in the field of pharmaceutical sciences so as to contribute in the nation building process and enrich their lives.
VISION
To become a premier, globally recognized institute by excelling in pharmacy education for creating socially responsible pharmacists and researchers.
OBJECTIVES
• To create an environment which encourages and supports the institute's endeavor of attaining international repute
• To produce pharmacy graduates who are globally competent
• To introduce innovative programs in emerging areas
• To organize continuing pharmacy education programs
• To develop the spirit of entrepreneurship
• To organize faculty development programs
• To promote research in thrust areas
• To provide consultancy services in areas of pharmaceutical sciences
• To interlink pharmaceutical sciences with biotechnology and other life sciences
CODE OF ETHICS
HUMAN VALUES AND PROFESSIONAL ETHICS
As a noble profession Pharmacist acts as a key role for the best use of medication by assisting individuals. This Code, prepared and supported by pharmacists, is intended to state publicly the principles that form the fundamental basis of the roles and responsibilities of pharmacists. These principles, based on moral obligations and virtues, are established to guide pharmacists in relationships with patients, health professionals, and society.
1. A pharmacist admiration the relationship between the patient and pharmacist.
In view of the patient-pharmacist relationship a pharmacist has moral duties in response to the gift of trust received from society. In return a pharmacist promises to help individualpatient to achieve optimum benefit from their medications, to be committed to their welfare, and to maintain their trust.
2. A pharmacist acts with honesty and integrity in professional relationships.
A pharmacist should be honest and has a duty to tell the truth and to act with conviction of conscience. A pharmacist avoids discriminatory practices, behaviour or work conditions that impair professional judgment, and actions that compromise dedication to the best interests of patients. 3. A pharmacist maintains professional competence.
A pharmacist has a responsibility to maintain knowledge and abilities as new medications, devices, and technologies become available and as health information advances for the better patient care. 4. A pharmacist serves individual, community, and societal needs.
The primary duty of a pharmacist is to individual patients to give them optimum drug therapy. However, the duties of a pharmacist may at times extend beyond the individual to the community and society.
5. A pharmacist respects the autonomy and dignity of each patient.
A pharmacist always promotes the right of self-determination and recognizes individual self-worth by encouraging patients to participate in decisions about their health. A pharmacist communicates with patients in terms that are understandable. In all cases, a pharmacist respects personal and cultural differences among patients.